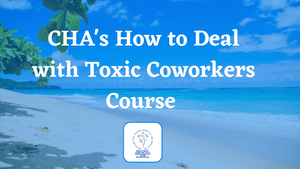 Thinkific
How to Deal with Toxic Coworkers
Sale price Price $350.00 Regular price Unit price / per
Tax included.
Shipping
calculated at checkout.
How to Deal with Toxic Coworkers is a great employee training course for anyone who wants to learn how to deal with toxic people in any environment. We must learn how to deal with these toxic people professionally and politely to protect our mental and spiritual health. These steps apply to the trauma-healing process in significant ways so we don't keep getting chased away from a job we love and we stop letting them disrupt our inner peace. 
For business owners and employers, this training course is a great addition to your employee orientation package to help increase employee retention and reduce workplace stress. In fact, this course is highly beneficial to anyone who wants to reduce workplace stress, home stress, and stress in any environment where toxic people are located. 
You receive access to the course materials and the community forum for one year after enrolling to complete at your own pace. The 10-question quiz requires a passing grade of 80% and is available to take as many times as needed to pass! 
If you have any questions, never hesitate to reach out! Plus, you may be interested in some of our other courses at CHA Academy that will further aid in trauma healing and getting better organized in thoughts and actions. 
Thank you for enrolling and I look forward to seeing you there!